Water, Sewer, and Drainage
With decades of experience and countless miles of utility installations, Marois Brothers, Inc. consistently gets the job done. We have installed water, sewer, and drainage services for a variety of different projects in all sizes and situations. These include complete water systems for schools and office buildings to sewer lines and pump stations. We can handle your drainage needs, too, from underground detention and surface drainage to catch basin and manhole installations.
Examples of Our Utility Work
Domestic water and fire lines
Sanitary sewer systems, including gravity pipe and force mains
Septic systems
Sewer pumping stations
Drainage lift stations
Drainage systems with RCP, HDPE pipe, and PVC pipe
Underground detention systems
Underground infiltration systems
Stormwater management basins and control structures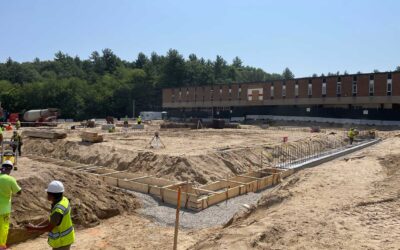 Location: Tyngsborough , MA Under contract with Fontaine Brothers Construction, Worcester MA Construction of a middle school to enhance the existing facility. Site work consisted of tree clearing, site cut-to-fill operations and installation of all site utilities....
read more